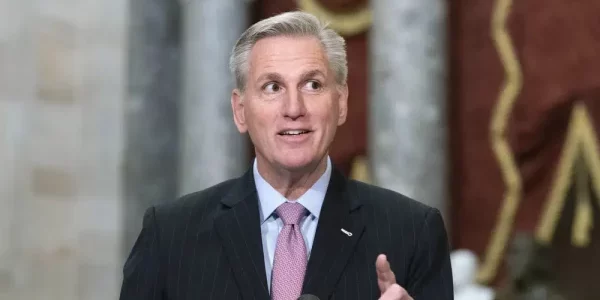 (Luis Cornelio, Headline USA) Former House Speaker Kevin McCarthy, R-Calif., hinted at potential expulsion proceedings against Rep. Matt Gaetz, R-Fla., following an impending ethics committee report, drawing parallels to the unfolding controversy surrounding Rep. George Santos, R-N.Y. 
In a Sunday Fox News interview, McCarthy drew a comparison between the predicaments of Gaetz and Santos, the latter facing imminent expulsion threats subsequent to a damning report released by the House Ethics Committee. 
The Ethics Committee's investigation unearthed evidence on Thursday suggesting Santos might have illegally used campaign funds for personal expenditures, including extravagant purchases and a subscription to an adult website. Gaetz, similarly under scrutiny, faces allegations of sexual misconduct and financial mishaps. 
"I think once that Ethics complaint comes forward, [Gaetz] could have the same problem as Santos has," McCarthy remarked during the Sunday Morning Futures interview with Fox News host Maria Bartiromo. 
McCarthy called on House Republicans to stay united behind newly elected House Speaker Mike Johnson, R-La. 
"I think the conference would be probably better united to be able to move forward and get this all done," he added. 
McCarthy's comments about Gaetz came amid inquiries about Johnson's decision to greenlight government funding until January. 
"I think Johnson was very smart about making sure keeping our troops paid, especially in the Mediterranean where they are right now," McCarthy stated earlier in the interview. However, he expressed disappointment over some members stalling bill progress, likely referring to the Republicans who voted to oust him earlier this year. 
"Unfortunately, we had a number of members doing the same exact thing they did before: Stopping bills from moving forward," McCarthy continued. "We're going to have to come together. We do know this is really driven, as you know, by Matt Gaetz's ethics complaint."
Cut $2.1 Trillion in spending
Passed Parents Bill of Rights
Strengthened welfare work requirements
Signed into law landmark permitting reform
Passed the most conservative border security bill in history

The facts prove this GOP-led Congress has been very productive. pic.twitter.com/ZidfTg0XO1

— Kevin McCarthy (@SpeakerMcCarthy) November 19, 2023