In case you missed it, Joe Biden gave a disastrous press conference a few days ago.
The so-called "commander-in-chief" spoke for two hours and made a complete mess of things. In fact, it was so bad that he actually caused a major "international incident" during the presser.
However, besides all that it showed the world just how out of touch Biden was with what Americans are going through.
Biden seemed completely unaware that the nation is worried about his failing mental health, and the fact, that he also claimed that 89 percent of store shelves are perfectly stocked.
Say what?!
Biden Touts '89%' Of Grocery Store Shelves Are 'Full'https://t.co/eT4138sg3L
Fact Checkers call BS #BidenPressConference pic.twitter.com/j5qkwC0jvV

— rodriQuez (@rodriQuez) January 20, 2022
Um, where is he getting that data?
Most people on social media are posting images that show their grocery stores looking like Venzulua instead of the most prosperous nation in the world.
Now, just days after saying that 89 percent of shelves are stocked to the rafters, DC is now rationing food. It's so bad, that the mayor's officials are actually sending tweets out about it in a campaign called "Only Take What You Need."
The DC Homeland Security & Emergency Management put out the alarming tweet, asking people not to buy more than they need.
Look: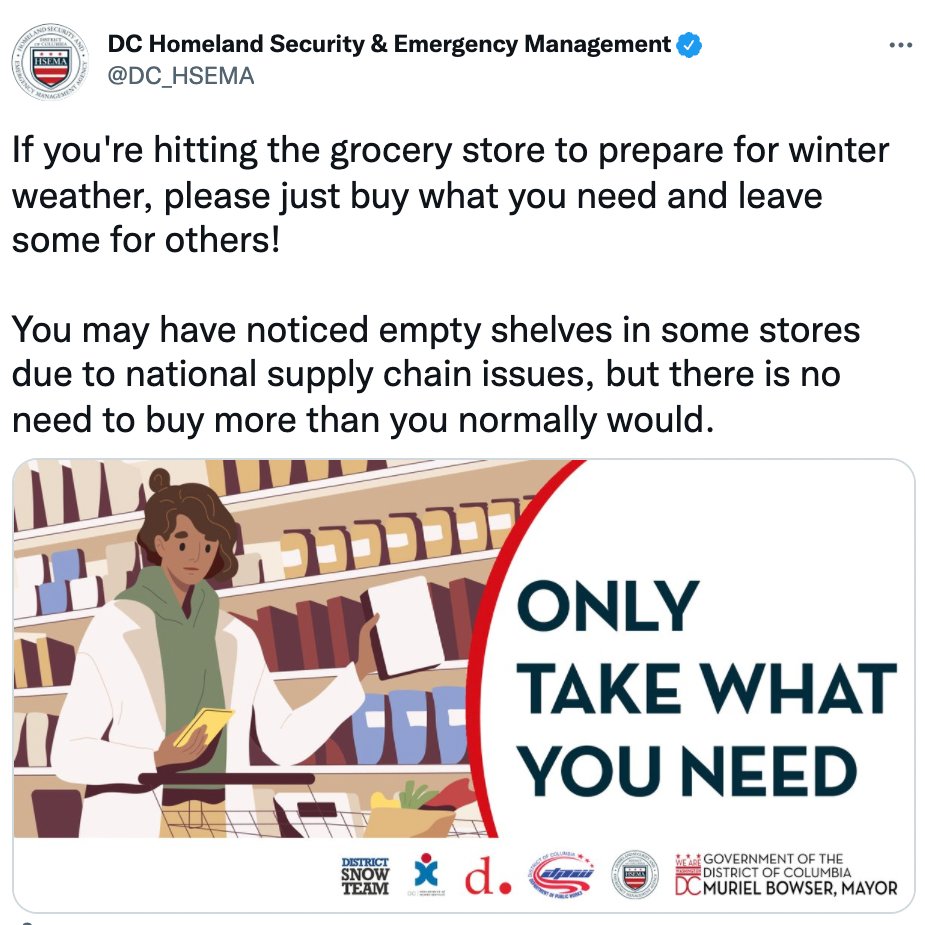 Here are some comments from people online:
"And just like that, everyone now identifies as a looter lol"
"Lefties will still answer posts saying it's not really happening."
"Is this how you acknowledge bare shelves without acknowledging bare shelves?"
"Shouldn't they have started the tweet with Dear Comrade?"
"Has anyone spoken to Pelosi about her ice cream stash replenishment plans yet?"
"They can piss off. I bought every damn bag of frozen chicken wings today at Aldi that I could get my hands on."
"Cant wait to get my govt issued ration stamps"
"Um, didn't Joe just say that everything was fine and store shelves were stocked?LOL" 
Yep, that last comment is a good point.
I am confused, are they part of the so-called meager "11 percent" that have no food on the shelves?
ALL OF DC?
I can say that in my neck of the woods, the stores are not even remotely stocked up.
Just recently when I went into Walmart, the shelves were completely empty and the meat section was abysmal.
So, I am not sure how Joe got that 89 percent number, but if you ask me, it seems like another one of his lies.