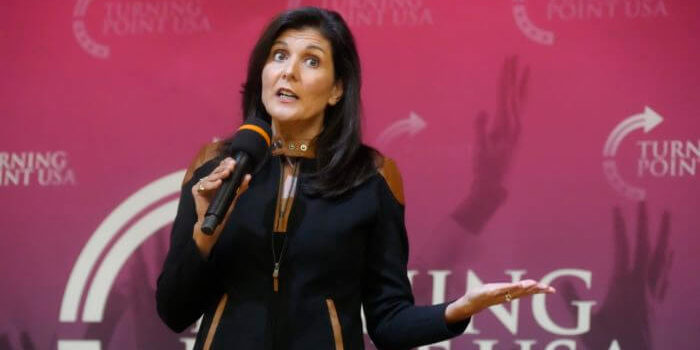 (Headline USA) GOP presidential candidate Nikki Haley doubled down on a policy proposal to require all social media users to verify their identities, claiming anonymous accounts are a "national security" concern, CNN reported.
"Every person on social media should be verified, by their name," Haley said during an interview with Fox News.
"That's—first of all, it's a national security threat. When you do that, all of a sudden, people have to stand by what they say," she continued. "And it gets rid of the Russian bots, the Iranian bots and the Chinese bots."
Haley's fellow Republicans immediately blasted the proposal, calling it Orwellian. 
"You know who were anonymous writers back in the day? Alexander Hamilton, John Jay, and James Madison when they wrote the Federalist Papers," tweeted Florida Gov. Ron DeSantis, who is also vying for the 2024 Republican nomination.
"They were not 'national security threats,' nor are the many conservative Americans across the country who exercise their Constitutional right to voice their opinions without fear of being harassed or canceled by the school they go to or the company they work for," he added.
You know who were anonymous writers back in the day? Alexander Hamilton, John Jay, and James Madison when they wrote the Federalist Papers.

They were not "national security threats," nor are the many conservative Americans across the country who exercise their Constitutional… https://t.co/YkAGMhUVCX

— Ron DeSantis (@RonDeSantis) November 15, 2023
Vivek Ramaswamy, another GOP presidential contender, called Haley's comments "disgusting."
However, she continued to defend the policy through multiple interviews. In a follow-up with the Ruthless podcast hosts, Haley again said of social media sites: "They need to verify every single person on their outlet, and I want it by name."
When one of the hosts pressed Haley on whether she believes people shouldn't be able to tweet anonymously, Haley said, "Do I think life would be more civil if we were able to do that? Yes. You should stand by what you say."
But on Wednesday morning, Haley appeared to have added a caveat to her requirement: "I don't mind anonymous American people having free speech," she told CNBC. "What I don't like is anonymous Russians and Chinese and Iranians having free speech."