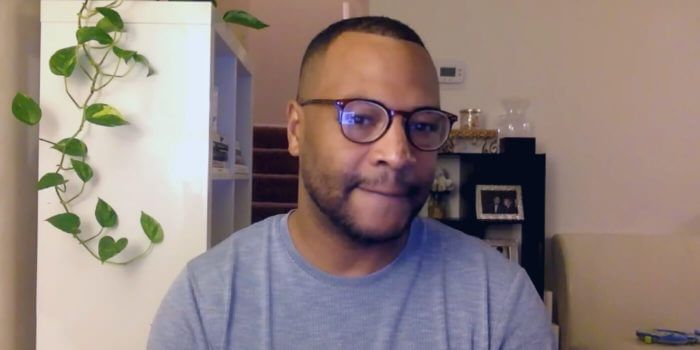 (Ben Sellers, Headline USA) The former co-founder of a Black Lives Matter chapter in Rhode Island said in a recent interview that he was endorsing former President Donald Trump in 2024 "because everybody else sucks," the Epoch Times reported.
Mark Fisher went on to say that he suspected others in the BLM movement shared his sentiment.
Trump is "the best candidate we have," he told podcaster Kim Iversen.
The shocking development follows several recent polls that showed President Joe Biden's base of support among both black and Hispanic voters is eroding.
Many—including Trump primary rival Vivek Ramaswamy, who raised the idea during Wednesday's GOP debate—suspect that Democrats may attempt to run former first lady  Michelle Obama, talkshow host Oprah Winfrey or another black female whose universal name recognition and fundraising ability could overcome any disadvantages from a late campaign start.
Nonetheless, Trump's message and philosophy have undeniably resonated with a growing number of African–American men in particular, who see him as a victim of the same two-tiered justice system that has long been stacked against them.
He has benefited from the endorsements of several high-profile rappers and other iconoclastic black celebrities.
During Trump's presidency, the BLM movement, which was rooted in Marxist principles and underwritten in part by China, presented itself at times as a direct foil to Trump's administration, making their social-justice demonstrations into de-facto campaign rallies.
Many of the donations made to BLM that were not embezzled by its top officials for their own personal use wound up going to Democrat political campaigns and causes, and the lines between the two groups were often blurred as funds were intermixed on sites like ActBlue.
Despite the interviewer's effort to talk him down, however, Fisher insisted that Trump shined when compared with the current White House occupant, who is notoriously racist among other things.
— Brian Anders (@HtownBda) November 8, 2023
"I like Trump," Fisher said. "I think right now, who we have sitting in the Oval Office is just a deep disappointment."
Fisher, like many disaffected leftists, appears to have been red-pilled by the Biden administration, and he echoed some of the sentiments espoused by the Blexit movement and its founder Candace Owens, who argue that Democrats have a centuries-long unbroken streak of practicing plantation politics but somehow were able to dupe or coerce black civil-rights leaders during the 1960s into persuading black constituents that they had flipped sides.
"Their policies are basically racist policies," Fisher noted.
The Left's stances on things like abortion, welfare and criminal justice "strike at the heart of the black family and the nuclear family, in general, and I believe Donald Trump is the opposite," Fisher added. "He's going to tell you how it is, he's going to give it to you straight, he's not going to be a hypocrite and stab you in the back like the Democratic Party loves to do."
In a separate interview with the Epoch Times he expressed his solidarity and support with the Jan. 6 political dissidents who had been oppressed under the Biden Justice Department.
"They're lambs led to slaughter, to be sacrificed as an example for all who might want to dissent in the future," Fisher said. "This is what the government does to those who express independent thought and want to stand up for what they believe."
Ben Sellers is the editor of Headline USA. Follow him at twitter.com/realbensellers.